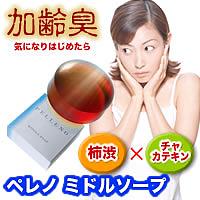 On this blog, I like to mix in some 俗語 (ぞくご zokugo) with words or phrases that have been in use for a long time. Zokugo doesn't directly translate as slang, though it can mean that: it points to words or phrases slang, words-of-the-moment, made up words or phrases, and so on.
Today's word is a zokugo of sorts that was 'invented' by a cosmetics company, Shiseido, in 2000. 加齢臭 かれいしゅう kareishuu literally means 'the smell of gaining years', or the smell of aging. Apparently, Shiseido discovered that as people get older, especially (but not limited to) men, some chemicals that are supposed to smell rather bad to others (presumably younger people) are produced by their bodies. 加齢臭 is supposed to smell like candle wax, aged cheese and old books. Smokers and heavy drinkers are supposed to have it worse than non-smokers. Here's the Wikipedia Japan entry on it. This Japanese site urges 'Otousan' (Dads) to check themselves for this odor after the age of 40.
This naming tied in nicely with an existing zokugo, おじさん臭い (ojisankusai) or おじん臭い (ojinkusai), which means to act like an middle-aged/old man, to be a fuddy duddy. No one gets as much abuse as middle-aged men in Japan; they are supposed to be behind the times, clueless about popular culture or computers and the like, balding, overweight or pathetically thin, lewd (or 'ecchi') and yes, smelly. Younger girls scorn them unless they can get money off of them, and younger men dread becoming one of them. Even their wives scorn them, especially if they retire or are made redundant and spend too much time in her realm, i.e. their home. (Older people get a lot more respect in society than the middle aged, at least on the surface.)
The 加齢臭 industry seems to be doing pretty well in Japan, selling things like deodorants, soaps, colognes, even nutritional supplements and teas to ward off the dreaded 'smell of aging', presumably to insecure middle aged men.