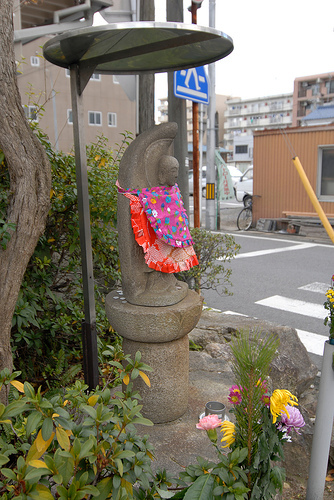 A small roadside Ojizousama. Photo by Bonguri.
One thing that strikes me every time there is a major election in the United States is how much importance is placed on religion (宗教 しゅうきょう shuukyou). This never happens in Japanese elections (and rarely in elections in the European countries I've lived in for that matter).
Most people in Japan would probably identify themselves as 無宗教 むしゅうきょう mushuukyou - non-religious. Most people practice various rituals that are from 神道 しんとう shintou - Shinto, but because they are so ingrained in Japanese culture they are barely thought of as being religious in nature. Rituals and practices from 仏教 ぶっきょう bukkyou - Buddhism are also ingrained in peoples' lives.
Although the percentage of Japanese people who identify themselves as クリスチャン kurisuchan - Christian - is quite small, some キリスト教 きりすときょう kirisutokyou - Christian (Christianity) practices have been incorporated quite casually. Here's how an ordinary person might encounter religious practices in their lives.
Here's how a typical year might go for a Japanese person, with various rituals that are barely thought of as being that religious.
They celebrate New Year's in a Shinto fashion, going to a 神社 じんじゃ - Shinto shrine to pray for good luck in the upcoming year (this first visit of the year to the shrine is called 初詣 はつもうで hatsumoude). There's even an online 神社.
A big ceremony for people who reach 20, is 成人の日 せいじんのひ seijin no hi - Coming of Age Day on January 15th, when they get dressed up in traditional kimonos (especially girls) and go to the 神社 again.
節分の日 せつぶんのひ setsubun no hi in February is a sort of mixed Shinto-Buddhist day, when bad spirits are driven out by throwing beans while chanting 鬼は外! おにはそと! oni wa soto! - Out with the devils!
Girl's Day, or 桃の節句 もものせっく momo no sekku in March is a Shinto festival of sorts.
as is Children's Day or 子供の日 こどものひ kodomo no hi in May
七夕 たなばた tanabata in July (though some places still celebrate it in August, following the old calendar) is another Shinto day, where people write wishes down on slips of paper (短冊 たんざく tanzaku) and hang them from bamboo branches.
In August, お盆 おぼん obon is celebrated, when people pay homage to the memories of their ancestors (the most common way is to go back to their home towns and visit the graves of their deceased loved ones). Obon is largely Shintoist, but most people are buried with Buddhist rituals.
Hallowe'en (ハロウィーン)has become a more popular thing to do in October, and around Christmas (クリスマス)time the stores explode with Christmas decorations. And many people get married in Christian churches. But Christian rituals seem to be mainly used for their decorative and 'romantic' aspects, rather than anything spiritual.
Many homes have a small Shinto shrine (神棚 かみだな kamidana, which literally means 'God's shrine'), if a close relative died there there may have a 仏壇 ぶつだん butsudan - Buddha's shrine (Buddha as well as the deceased person being honored are called 仏様 ほとけさま hotokesama) to honor their memory.
Many Japanese streets, in the towns or the countryside, have little stone statues called お地蔵様 おじぞうさま ojizousama, a Buddhist 菩薩 ぼさつ bosatsu or sort of saint who protects travelers and others.
When children wish for good weather the next day, they might hang up a てるてる坊主 てるてるぼうず teruterubouzu - the figure of a little bald Buddhist priest made out of paper.
Throughout various periods in Japanese history, Christianity has been actively discouraged, banned or persecuted, and other religions have had little or no influence. Nowadays people are free to practice any religion they want, but the percentage of people who identify themselves as being of a particular religion is quite small. (The Japanese government doesn't ask people what religion they are formally so exact numbers are hard to come by.) Generally speaking, there is a feeling of slight suspicion towards anyone who is overly religious. For instance, there was a family in our old neighborhood in the suburbs of Tokyo who were active in 創価学会 そうかがっかい Soka Gakkai, a relatively new Buddhist sect. The mothers in our neighborhood would warn the kids not to associate with them too much. I never understood why exactly, but I guess it comes from a general distrust of anyone who is too different from the norm.