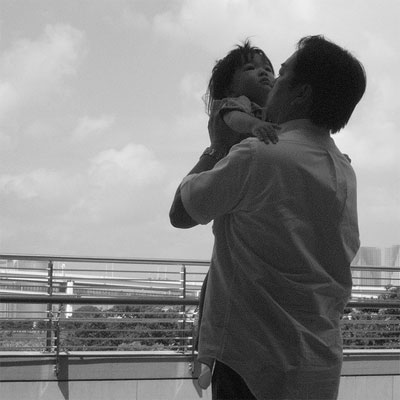 (photo by imhotep123)
I was talking to my mother on the phone the other day. At one point she said to me jokingly:
たまには親孝行してちょうだい。
The rough translation of this is "Do something to make me happy sometimes", but the key phrase here is 親孝行, pronounced oya ko-ko-. Oya means 'parent' - that's simple enough. The kou-kou part is the difficult one to translate, a word that doesn't exist in English. In dictionaries it's most often defined as "filial piety". It means to respect, to obey, to serve, and to make happy. It's never (or very rarely) used in any other context other than when referring to parents.
Japanese society is based a lot on having respect for ones elders, and the most immediate elders are parents of course. So it's natural that a phrase that specifically means 'respecting your parents and making them happy' exists.
Making one's parents happy doesn't just mean doing stuff for them. A child that is happy and successful in his or her own life is often referred to as doing well in the 親孝行 department, though he or she is expected to treat his/her parents well at the same time.
The flip side of 親孝行 is 親不孝 (oyafukou) - disrespecting one's parents, making them unhappy. I recently read this word being used in a very sad context, on a Japanese blog. The blogger had gone to the house of a twentysomething year old colleague who had died in an accident, to pay her respects and light an incense stick (お線香)for his spirit at the family shrine (仏壇). She suddenly had an uncontrollable surge of anger, and muttered out loud, "How could you be so stupid, to die so young?" She was immediately ashamed of herself, because his parents were right there. Instead of getting upset at her though, they told her with tears in their eyes, "Please, scold him well. He shouldn't have passed before his parents. He is a 親不孝者 (oyafukou-mono, a person who commits oyafukou), making his parents so unhappy." Somehow, that story really touched me. I guess for a loving parent, the ultimate oyafukou a child can commit is to die while they are still alive.