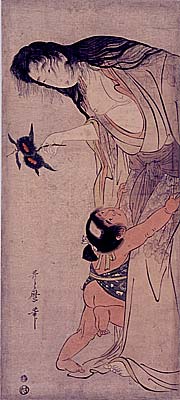 This is a picture of the popular mythical boy hero Kintarō, aka Golden Boy, with the mountain ogress who brought him up. Kintarō is the ultimate strong little boy that every Japanese mother wants her son to be like. On Children's Day, the 5th of May (which is basically a day just for boys - girls have their own day which is on the 3rd of March) families with sons put up Kintarō dolls in their alcoves.
(Incidentally, I found this painting on an educational site with various works of art intended to show to kids during class. Japanese people are generally rather nonchalant about nudity between adults and kids. They don't get all het up about it like they do in the States. Imagine the shock-horror that would ensue if a teacher in the USA showed little kids a picture of an adult woman with bare breasts bending down over a little boy with a bare bottom. But I digress again.)
The word for breast in Japanese is chibusa (乳房). If you analyze each kanji character, the first one is chichi (乳), mammary, and the second is fusa (房), which is a word used for a fruit that grows, hanging, in bunches. Grapes and grapefrufruit are both counted by fusa. So...put them together and you have, sort of, a mammary fruit? A bunch of hanging breast? Well anywho.
The word for nipple is (乳首). The first kanji is the same as for the whole breast, but the second character literally means neck. So...a nipple is the neck of a breast or mammary. Odd eh.
There are surprisingly few slang terms for breasts in Japanese. I can only think of chichi or ochichi (お乳), which is not even really slang, and oppai (おっぱい). (The word mune (胸) is sometimes used too, but mune really means the whole breast area rather than just the mammaries.)
Chichi can be neutral or erotic, but oppai has a comfy, motherly feel to it, and is used mainly in conjunction with babies - e.g. akachan ni oppai o ageru (give breast to the baby, meaning breast-feed the baby). I think the lack of lots of slang words indicates that breasts are nothing to be ashamed of in Japanese culture. (Breast feeding in public was never a big deal, though recently some people have caught some funny habits from American culture and made it a slightly bigger deal.) On the other hand, there are more odd slang terms for a woman's private parts, the most common one being asoko, which literally means "(down) there". 'Down there' is a taboo area, something to hide and be ashamed to show. Contrast that to English, where there are tons and tons of funky ways to refer to boobs..er I mean breasts. Draw from that what conclusions you may.
(I didn't intend this version of the blog to start out with discussions of breasts! It will soon get more boring, not to worry.)