The other day, I ran across an outstanding online language learning app/website. I hesitated to mention it here, since at the moment it's only for Japanese speakers who want to learn English. Still, you may know someone who is in that position, so here it is. It's called iKnow!.
iKnow is a Flash app which incorporates audio, visual and text in a very slick way. There are individual classes plus several courses (called Channels) available for different skill levels: total beginners, business people, people planning a trip, up to students aiming to study abroad at university.
It allows for all kinds of practice - grammar, pronounciation, spelling. It uses a sort of randomized repetition process which, if my vague memories of being in school serve me correctly, are very effective for memorization.
There's a whole lot more to it - personalized progress reports, a built-in blog, calendar, community features, etc. etc., all presented within a shiny Web2pointOh-ish interface. Being a Japan-based service it can also be used via a cellphone (though this may be restricted to Japanese phone services).
It's not just a pretty platform either. The couple of lessons I tried were really pretty good, and they've cooperated with established English teaching programs like one on NHK.
In other words, at every turn it made me just say "wow, that's impressive". Even their Flash Happy New Year card (warning: loud music) is slick. And being the cynic that I am, I rarely say that about any Web2pointOh doohickey, especially a Flash app.

And..and..and, it's all free, and (according to their website) will remain so, though they will offer a paid premium service. If what you see in the beta version is what the basic free service will contain, it would be plenty enough for most people.
I think iKnow as-is could be used for intermediate and above English speakers who can navigate the Japanese-only site, and who want to brush up on their Japanese skills. I'll check it periodically to see if they roll out a formal Japanese learning for English speakers program. Heck, I hope they get big enough to institute other language programs.
In any case, if you have Japanese friends who want to improve their English, point them right there.
A couple of screenshots, which at least show how pretty this thing is.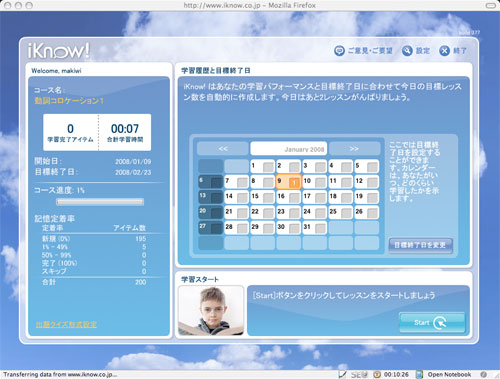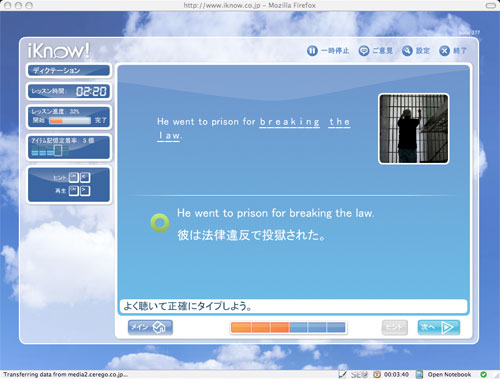 Here's a page with more screenshots. Also, Google Japan search results for iKnow.