Heidi is a children's novel written by Johanna Spyri, a 19th century Swiss author who lived most of her life in Zürich. Heidi became tremendously popular almost immediately; it's been translated to several languages, made into movies several times (most notabley perhaps in the English speaking world in a rather bastardized version starring Shirley Temple), and there was a Heidi musical that was popular last summer in Switzerland. But in the non-English speaking world, Heidi is probably best known via the anime series produced in Japan in the 1970s called Arupusu no sho-jo Haiji (アルプスの少女ハイジ). (Wikipedia English entry)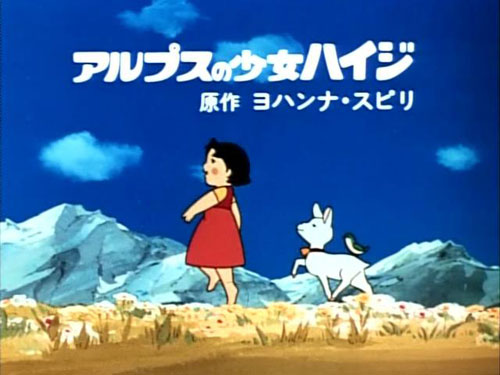 It's a bit ironic in a way that a Japanese anime has helped to make a Swiss classic (written in German) so popular. But the series really was of top quality, and it's no wonder that it is still shown on TV all over the world. (Except for the English speaking parts of course. Crap like Pikachuu and Yuugi-Oh can make it on the Toon channels but an old anime of a classic children's story...no no no.)
Since I'm a Japanese person currently living in Switzerland. Heidi is never that far from my mind. Whenever I talk to a new Japanese acquaintance, I can guarantee that Heidi will come up in the conversation. Heidiland, the area around Maienfeld in the Grisons (Graubünden), is a major draw for Japanese tourists. (Don't let that deter you from visiting the area though - it really is beautiful around there.)
I hadn't watched the Heidi anime for decades, since I was a kid really. Recently though, I had an opportunity to view the series on DVD. (As far as I know it's only available in Japan I'm afraid.) Except for minor things like mono audio and a slightly fuzzy picture, it barely shows its age. What I didn't notice before is how wonderful the attention to detail is. (Three men who later became giants in the anime world, Isao Takahata, Yoichi Kotabe, and Hayao Miyazaki were involved in the production.) The Swiss scenery doesn't look like anywhere specific but it certainly does look Swiss, not just generic mountains. The architecture is defintely Swiss, not just 'alpine'. Even the simple furniture in Grandfather's house and such look just right - I have an antique miniature chair that looks exactly like the simply carved wooden chairs shown in the anime.
It is a bit funny to me how Japanese Heidi looks. Well so do the other characters a bit, but at least they are given light brown or blonde hair and such. Heidi has short dark hair and round dark eyes. She look a lot like my little sister Megumi did when she was 5 years old.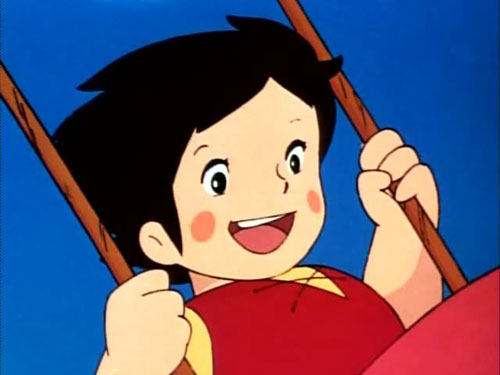 Here in Switzerland we occasionally get Heidi on one of the German (from Germany) channels, ZDF or ARD. Hearing Heidi dubbed in German is sort of hilarious. Actually the whole thing is pretty funny to me - Swiss story, in Japanese, with sort-of-Japanese looking characters, original Japanese, dubbed to German!
The German version of the title song is very literal. Here's a YouTube video of it (which may disappear due to rights issues, but just go to YouTube and search for Heidi - it keeps cropping up):
The lyrics in German, followed by an English translation:
(Yodeling)

Heidi, Heidi,
Deine Welt sind die Berge
Heidi, Heidi,
Denn hier oben bist Du zu Haus

Heidi, Heidi,
your world are (is) the mountains
Heidi, Heidi
'Cause up here you are at home

Dunkle Tannen,
grüne Wiesen im Sonnenschein
Heidi, Heidi,
brauchst Du zum glücklich sein

Dark firs
green pastures in the sunlight
Heidi, Heidi,
that's what you need to be happy

(Yodeling chorus)

Heidi, Heidi,
komm doch heim,
find Dein Glück
komm doch wieder zurück

Heidi, Heidi,
oh come home
find your happiness
oh come back home
Now here's the original Japanese version:
The lyrics:
(Yodeling)
Kuchibue wa naze
Touku made kikoeru no
Ano kumo wa naze
Watashi o matteru no

Why can a whistle
be heard from far away?
Why is that cloud
Waiting for me?

Oshiete Ojiisan
Oshiete Ojiisan
Oshiete
Arumu no Momi no ki yo

Tell me Grandfather
Tell me Grandfather
Tell me
The Alm's fir trees

(Yodeling)
As you can see, the German version is quite literal. The Japanese version is in fact, quite abstract. I guess you could call it poetic or haiku-like. I prefer the Japanese version (which I can still sing from memory, God help me) but I've had long arguments with eh, German-speakers who say the German version is more descriptive and therefore better.
I guess I could draw some deep analogies about the difference between German and Japanese thinking based on this. Hmm....maybe after a few drinks.
Yaha yahihaiho, Yara hahihaiho...