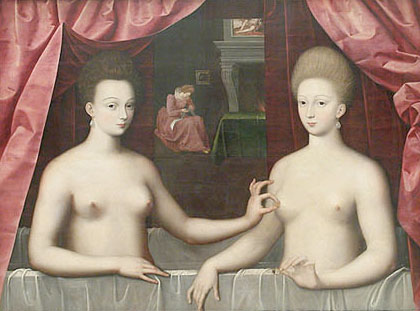 Behold, a very nice painting. It's called Portrait présumé de Gabrielle d'Estrées et de sa soeur la duchesse de Villars (Portrait presumed to be of Gabrielle d'Estrées and her sister the Duchess of Villars). It's at the Louvre, and was painted around 1594 by an unknown painter. The lady on the right is supposedly Gabrielle d'Estrées, a mistress of Henry IV of France.
Yes, I know. Nice, impossibly pert breasts on these ladies. The painting filled with all kinds of symbolism. The sister is tweaking Gabrielle's right nipple, which is supposed to mean she (Gabby) is going to have a baby, since the nipple is the source of mother's milk.
Which leads us to this post's theme...the ugliest German word ever. Nipple, in German, is Brustwarze. Breast wart. Two (or more) of them sounds even worse - Brustwarzen.
So in the picture, there are vier Brustwarzen. Four breast warts.

Eww.
German is not the prettiest sounding language in the world. It does, in fact, sound quite harsh. Still, one gets used to it, especially when it is spoken in the lilting tones of Schwäbish, or indeed the convoluted sing-song of Schwiizerdütsch. But some words almost make your ears bleed. It's a wonder that German soft porn got so popular in the '70s. You didn't know that those rather elderly Mädchen were showing off their breast warts, did you.
Can you every look at a naked boobie the same way again?
I didn't think so.